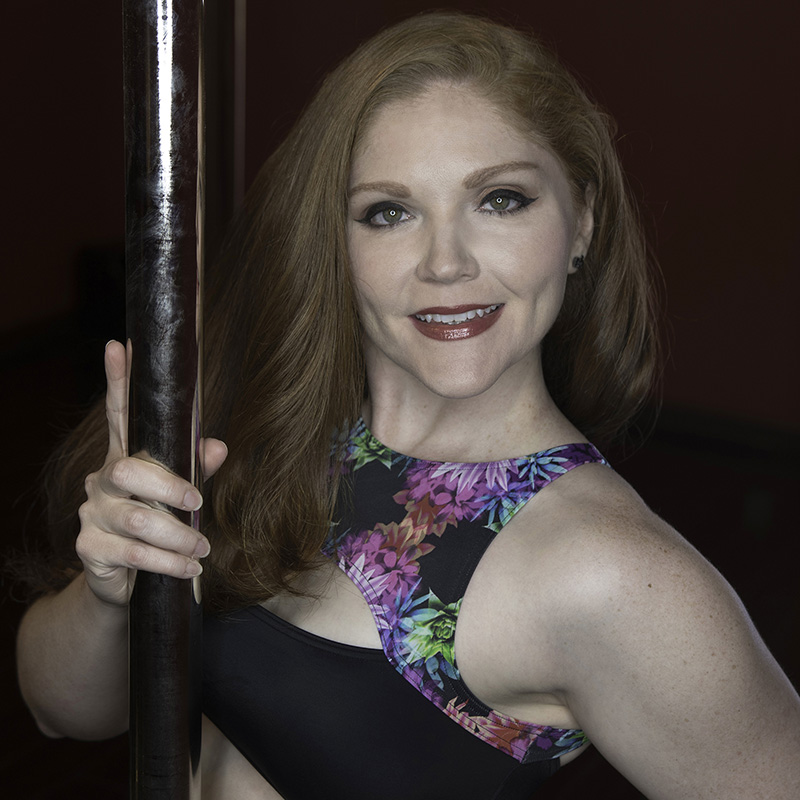 FITNESS
Colleen has 11 years' experience in the fitness industry as trainer, coach, teacher, performer, and competitor. She is certified as a personal trainer; pole dance, yoga, mobility, floorwork, TRX, and lyra instructor and is also a Liquid Motion Master Trainer.
She is a regular performer with credits including performing with Snoop Dogg and at the Kennedy Center.
Colleen came to fitness later in life (29) and after a serious motorcycle accident that shattered her right leg. Her teaching style and methods for training are a mix of functional movement, physical therapy, and contortion. She firmly believes that everyone can improve their mobility.
As a life-long teacher/trainer she excels at providing options for movement, unique verbal and physical cues, and encouraging her students to develop their own movement style.
She recently (2022) published the first book on mobility focused on polers, aptly named "Mobility for Pole."
BOOK A MOBILITY MATTERS CLASS OR PRIVATE
Can't attend the live class? Sign up and you'll receive a recording good for 7 days from the date of the live class!
TESTIMONIALS
"You are amazing and in the small amount of time we have known each other I have learned so much from you and you are a true inspiration to us all <3 you have helped me renew my mind set of 'I will not be a patient! I will use my body to the best of its ability and I am not broken I just have challenges' and I will be forever grateful!"
Mobility Matters is about… releasing the muscle fascia, getting the body back in alignment and recovering the body from all the crazy shit we do to it even when we're not pole dancing… it has really helped me a lot to pin point what I need to work on and my out of balance points.
My whole body feels taken care of. This class is perfect if you know you need some extra TLC to complement your other training but struggle to stick to it. Colleen is consistent, considered and holds the space for you to really take the time your body deserves. Would highly recommend to anybody, and there's not an aerialist out there who wouldn't benefit from Mobility Matters!
Build on your strengths and find creative ways to identify and correct weak areas. With tons of experience and research under her belt, this is what Colleen can help you do.
After 10 plus years of pole dancing, I've had a lot of experience with advice and tips that worked for others but wasn't well suited for me. Because Colleen understands both the struggles and the fundamentals underpinning moves, she has helped me overcome many obstacles and showed me that these aren't permanent limitations.
I love your classes!  I feel like your weekly classes combined with my monthly bodywork/massage appointments, has my body in it's best "recovery" state it's ever been in.  Sure, I may still pull something the wrong way (I'm in my 40s, it's bound to happen!), but I feel like I have more tools now to help me get back on track sooner.  Definitely notice more range of motion in many of the exercises we frequently revisit as well as in my ability to wrap myself around the pole.  I guess, really, that's the thing – I never quite realize how much my body needed some sort of relief/stretch/alignment until class is over and I feel the positive effects as soon as I walk off the mat.
I've been taking Mobility Matters classes with Colleen for a couple months now. Not only do I love how loose & relaxed I feel afterwards but my body awareness has increased. I'm more mindful of my body's connections & joints during normal daily activities and especially when I pole. One big bonus factor… my carpal tunnel has completed disappeared because of the wrist exercises Colleen has you do! I was having uncomfortable wrist pain to the point that I was wearing wrist guards every night. Now, no more wrist pain and no more ugly wrist guards! lol
In Colleen's Mobility Matters class I realized WTF my body was actually doing and WHY I have some of the issues I have had over the years and why I could never progress with pole. After about 2 months of Mobility Matters privates with Colleen I decided to take baby steps to RELEARN Pole from the beginning with PROPER body alignment and shoulder engagement for MY BODY….I'm now starting over and LOOK LOOK at that genuine smile of hope and happiness.
Took my first Lyra class with Colleen on Sunday morning. It was great and so was she! Love the support, the pace of the class, and even the soreness :)
Bootylicious floor transitions with Colleen in Liquid Motion 1 was a lot of fun! Really helpful seeing her demo the moves from different angles and her pointing out what part of the body starts the transition to make it liquid.
Colleen is an excellent teacher and explains the technicalities very clearly while asking you feel comfortable and confident where you are strength wise. I am easily discouraged and hard on myself especially when life and running a spa gets too hectic but she offers plenty of modifications for pole tricks that help build back up your strength, increase mobility and get a great workout.
Definitely don't miss out on taking your fitness to a whole other level! Colleen is very knowledgeable in what she's teaching! You will learn SO MUCH and have fun while you're at it, whether you're a newbie or a more seasoned poler.
Colleen is the ultimate professional. She is encouraging and great at explaining things. The depth of her knowledge is both impressive and inspiring. Not only do I always learn something new when I train with Colleen but I am also more convicted and motivated to expand my own knowledge.
I love Colleen Jolly, she inspired me when I was the worst student in class. I love all my pole teachers and pole sisters. And pole brothers.
Colleen is amazing. I am noticing a significant change in my back flexibility. I have even improved my middle splits and shoulder flexibility since taking her class! Intense workout but very much worth the results!
Colleen is very knowledgeable in what she's teaching! You will learn SO MUCH and have fun while you're at it, whether you're a newbie or a more seasoned poler.
Colleen's private instruction is top notch! She takes time to assess where you are in, regard to your goals. She's also super fun and positive!
I will follow Colleen anywhere to take her flexibility class!!
CERTIFICATIONS
Liquid Motion Master Trainer (2021)
XPERT, Aerial Hoop (Lyra) (2021)
RAD Yoga: Foundations of Myofasical Release and Asana (2021)
MyVinyasa, Vinyasa Yoga 200 hour (2020)
Liquid Motion Level 1, 2, and Heels (2020)
TRX Suspension Training (2020)
RAD Roller Mobility Level 1 (2020)
elevatED Level 1 Pole (2016)
AFAA Personal Trainer (first certified 2014, maintained certification consistently)
CPR/AED (first certified 2014, maintained certification consistently)
TEACHING
Traveling: GirlFit (VA 2021), Butter+Filth (VA 2019), Interfusion Festival (VA 2019 & 2017), Awakenings (NOLA 2019), Dream Dance Fitness (NY 2018), Polercise (FL 2017) PoleCon (2017 & 2016)
Regular (weekly):
WORKSHOPS
Book Colleen for an in-person or virtual workshop:
Spectacular Spreadies: Ground-Dwelling (Beg-Int)
*You do not need to be inverting on the pole. Static Pole Only. Love spreadies but not ready to take them to the air? Try them on the ground with the pole as your partner! Emphasis on active flexibility and techniques to make flexibility illusions.  Tricks include: floor jade, down splits, up splits, handstand/meatgrinder split, chopstix, and more!
Spectacular Spreadies: Flying (Int-Adv)
*Should be safely inverting. Some spin pole. Raise those spreadies to the gods in this advanced class learning all of Colleen's favorite, #crotchtastic splits with tips for making your current tricks more splitty! Tricks include: Jade, no-hands jade, jallegra, bird of paradise (inverted/upright), binds, pegasus, and more!
Spectacular Spreadies: Active Flexibility and Conditioning (Non-Pole) (All Levels)
Feel like spreadies are out of reach? Nonsense! After an active warm up we work on all the splits using our pole as a stretching tool and even our friends! With an emphasis on active-flexibility and injury-prevention, learn new ways to safely go deeper into your stretching practice and #getbent! *Colleen has a specialty working with chronic injuries and giving modifications.*
Use Your Butt: Low-Flow, Pole-Assisted Body Part Balances (Int)
*Should be safely inverting or willing to try!
Love working the base but running out of ideas? Learn Colleen's favorite ground-based tricks using your butt, your forearm, knee pits, and other body parts to hold onto the pole while never going higher than standing. Tricks include: floor steel panther, floor sneaky-V, violator, forearm stands, and more!
PERFORMANCES
Pole Performances:
6/2019: International Pole Convention (PoleCon), Pole Comedy Showcase with Nel C, Denver ("Mortimer and Fitzgibbons Origin Story")
4/2019: FIT4Polers Spring Fling Showcase with Nel C, DC Metro Area ("Moritmer and Fitzgibbons Origin Story")
10/2018: Guest Performer, Dollhouse, "Halloween" Showcase, DC Metro Area (Vampire Concept)
12/2017: FIT4Polers Holiday Showcase with Nel C, DC Metro area ("Moritmer and Fitzgibbons: the Gift")
7/2017: Capital City Burlesque and Vaudeville Festival Doubles with Nel C ("Mortimer and Fitzgibbons: the Picnic")
1/2016: Capitale night club, Washington DC performer
11/2015: FIT4Pole Polesgiving ("Under Pressure")
4/2015: Pole Pressure Alexandria Guest Performance, DC Metro area (Mike TV concept)
1/2015: MIA night club, Washington DC, performer
11/2014: Charm City Pole Show, Baltimore, MD ("Sweet Transvestite")
10/2014: Pole Pressure Pole-usical, Instructor Troupe ("Chicago")
1/2014: MIA night club, Washington DC, performer
12/2013: Pole Pressure Holiday Showcase ("Santa Baby")
10/2013: Pole Pressure Pole-usical "Moulin Rouge" ("Hindi Sad Diamonds")
6/2013: Pole Pressure Pep Rally ("Hollaback Girl")
6/2013: International Pole Convention, Pole Pressure Troupe
10/2013: Pole Pressure Pole-usical "The Lion King"
Lyra Performances:
4/2017: FIT4Polers Spring Fling Showcase, DC Metro area ("Brand New Key")
Bollywood Performances all with Doonya Dance:
A few performances (2-4) per year from 2010-2013 including the Cherry Blossom Festival, Fiesta Asia, during National Dance Day 2010 on the Millennium Stage at the Kennedy Center, and as entertainment for hired-out events. All in DC or Northern Virginia.
COMPETITIONS
2/2020: Second Place Pole Sport Organization (PSO) Atlantic Pole Championship (APC) Level 5, Virtual ("Buying a Car Concept")
11/2019: Pole Sport Organization (PSO) North East Pole Championship (APC) Level 5, Boston  ("I'm Tired")
4/2019: Pole Sport Organization (PSO) Atlantic Pole Championship (APC) Level 5, DC Metro Area ("I'm Tired")
4/2018: Pole Sport Organization (PSO) Atlantic Pole Championship (APC) Level 5, DC Metro Area ("You Outta Know")
3/2017: Pole Championship Series Competition Pole Open at the Arnold Sports Festival, Ohio ("Jailhouse Rock")
4/2016: Pole Sport Organization (PSO) Atlantic Pole Championship (APC) Level 5, DC Metro area ("Bad Touch")
10/2015: Third Place PSO North East Aerial Art Championship (NEAAC), Entertainment Level 4 Senior Division, NYC ("Under Pressure")
4/2015. Second place PSO, APC, Entertainment Level 4 Senior division, DC Metro area. (Mike TV concept)
9/2014. First place Candy & Chrome Pole Dance competition, DC Metro area ("White and Nerdy")
4/2014. Second place PSO, NEAAC, Entertainment Level 4 Senior division, Pole Dance Competition, Greater Boston area. ("Sweet Transvestite")
5/2014. Second Place PSO, CPC, Entertainment Level 4 Senior division, Pole Dance Competition, Chicago ("White and Nerdy")
1/2014: Pole Pressure Capitol Hill Regional Competition, Washington DC ("I'm Too Sexy")
9/2013: Candy & Chrome Pole Dance competition, DC Metro area ("Boogie Woogie Bugle Boy")
4/2013: Candy & Chrome Pole Dance competition, DC Metro area ("Gold on the Ceiling")
1/2013: Pole Pressure Studio Competition ("Love the Way You Lie")